Tripawds is a user-supported community. Thank you for your support!
Thank you to all of you who have reached out in support of us. Samba had her left front leg amputation surgery for injection site sarcoma 5 days ago and everything is still very stable. We have had no problems whatsoever with the incision, or with med intake thanks to the irresistible morsels pictured below. Our days are fairly homogenous. I spend a lot of my time here in the guest room with her, reading and resting on a mattress on the floor. Samba rotates her naps among the mattress, which she can already climb up on, her little orthopedic pet bed, or the quilts on the ground. She will become alert for a little while for petting or for food. She is not falling quite as pitifully or drastically as before when she walks. She is happy to go back to sleep after a few minutes and purrs as I pat her head and ears. Her digestion process is fully intact after a few small sprinkles of Miralax. We have had almost no complaining from this girl! She fussed at me one time when I changed her shirt, but otherwise is all purrs. She seems even sweeter and more content than before her amputation, as she had gotten to be a bit of a grump. Now, she is back to her sweet self. I am loving all the time with her.
We have run out of buprenorphine and Onsior, but have gabapentin remaining. I hope it is okay to be on monotherapy now for pain control.
Coming up this week:
Will call surgeon on Tuesday as instructed, one week post-op, to see if pathology result is known. Will make suture removal appointment for Friday.
Word of caution:
Not all cats can tolerate kitten replacement milk! I offered this as a treat and it didn't stay down in her stomach long! I woke to the tell-tale sound of hurling! We will stick to kitty bisque and canned food!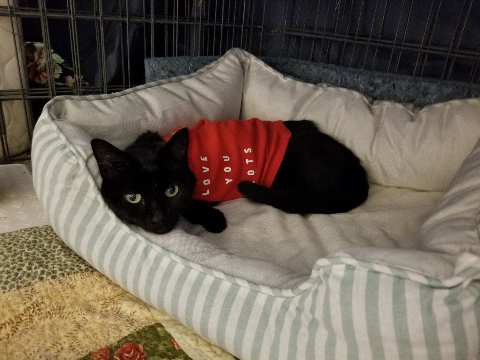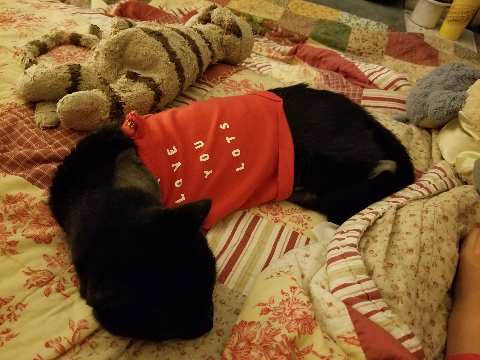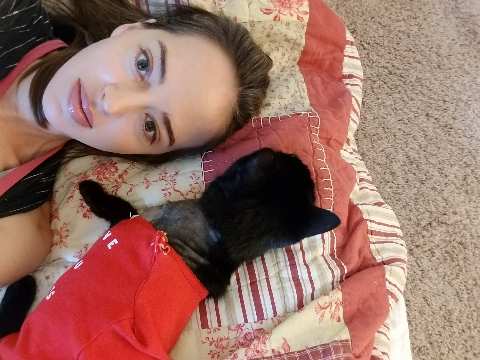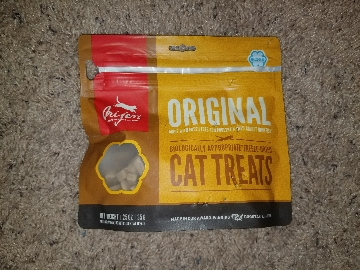 Just smush one of these yummy morsels around kitty's pill, and she will swallow it whole!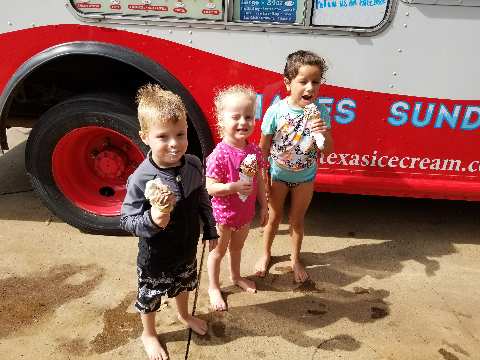 My family and I went across the street to a pool party after I tucked Samba in for a spell. I have to say I was a little nervous to leave for those few hours, but she did fine (This was just yesterday).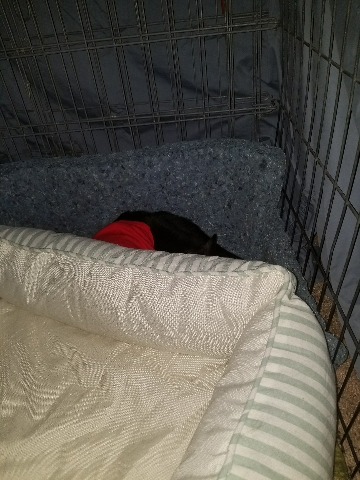 While I was blogging, Samba decided to hide! I was halfway into a panic, waving my flashlight around looking for her, when I discovered that she was just trying out the space behind her bed.